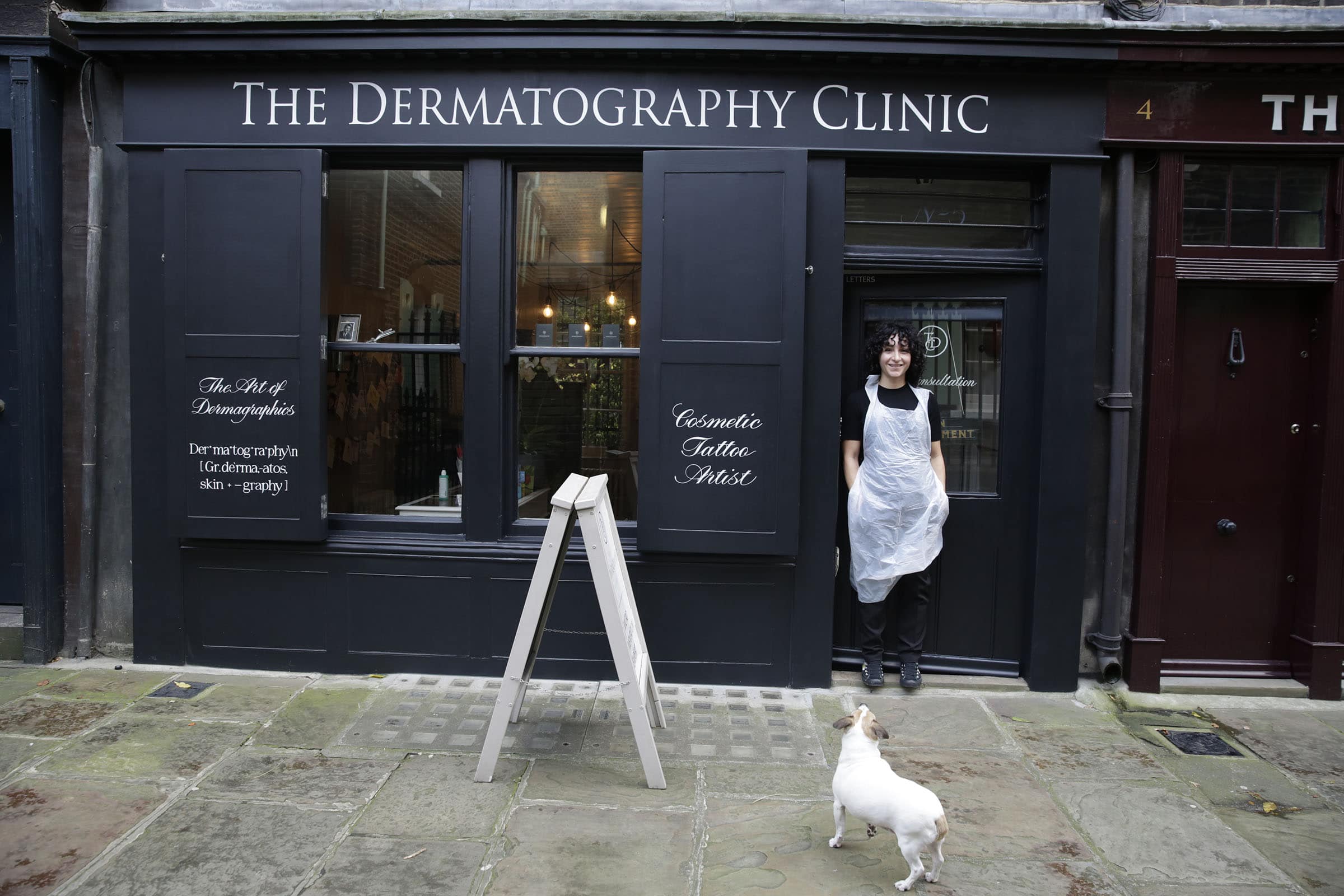 The Dermatography Clinic Spitalfields London, specialising in semi permanent makeup and paramedical tattooing since 2008
As a leading London practitioner of permanent cosmetics and micropigmentation, Renée Cleovoulou has been responsible for transforming the faces and bodies of thousands of men and women in the UK and internationally, helping many regain confidence in their appearance in the process.
Permanent Cosmetics, also known as Permanent Make-up, Derma Graphics or Cosmetic Tattooing, is a cutting edge aesthetic treatment for men and women which employs the latest techniques to achieve lasting colour or definition.
The procedure which is technically known as Micropigmentation, is a process of pigment implantation which produces flawless makeup for eyebrows, lashes, lips or the lashline that will last between 1 and 3 years.  For many people micropigmentation can also be used to camouflage scars after surgery (including breast surgery), or as a solution to partial or complete hair loss.
Located in the heart of Spitalfields London, a stones throw away from the world famous Spitalfields Market Shoreditch and the city of London, the Dermatography Clinic can be found in a beautiful Grade 2 Listed Georgian building, nestled away off the beaten path. Where each client leaves a different version of themselves; a fact attested to by the countless cards, letters and emails received weekly.

Once you've had something done by this artistic lady, you'll come back for more.
-Ruth
You lifted such a weight off my shoulders by working your magic! I'm busy telling all my friends that they need to come and see you.
-Natasha
This was hands down the best money I have spent on myself in ages!
-Bianca Loreggian
A truly talented and special artist within her profession.
-Alana
I love your work.  Your patience, Kindness and passion reflects in your work.
-Marie Standley
I'm absolutely thrilled with the results! Ive got my confidence back.  Money well spent, will now be waking up looking beautiful.
-Pamela Boadi
I honestly can't recommend Renee highly enough. She explained the process with patience and expertise and really tailored the solution to achieve the most natural look for me, which is actually what I was after. I am absolutely delighted with the results and my confidence has shot up, it's a game changer
- Rebecca Allen
Wish I had this done years ago. Renée, you made me feel so confident!
-Rache
Renee is a true artist. Her talent combined with her eye for detail and a healthy amount of professional perfectionism makes her work outstanding and makes her advice trustworthy. I trust her completely after she made me into the best version of myself.
- Bianca Hermansen
The results are amazing and it's the solution I've always been looking for.
-James
She is extremely talented, professional, really listens and makes you feel at ease.
-SS B
Renée is extremely good at what she does. Her confidence simply puts you at ease. Excellent service.
-Peggy Sealy
Having gone to Renée and having micropigmentation done was the best thing I've done for the alopecia. She's the best at what she does!
-Ali Haling
You made the whole procedure relaxing, simple. I couldn't be more satisfied. Would recommend you to anyone.
-Leslie
Renée is not only good at her job but also a lovely human being. If your thinking of taking the plunge you are in the best of hands!
-Isaac Oppong
This has been a life-changing choice. A big thank you for your personalised and super professional service.
-Alex
Best money I've ever spent!
-Claire Knox
After years of feeling so self-conscious, I already feel so confident. The best money I think I have ever spent.
-Denise
Dear Renée. Thank you very much for making me feel beautiful again.
-Cheran
I feel so much more confident, highly recommended.
-Anita
Dear Renée, thank you for giving me my confidence back and also for making me look like a woman again.
-Jackie
I am so very grateful to say the least! It has made such a difference to me – more than I could have ever imagined.
-Thelma
Renée is a gifted artist and a calm professional. I have no qualms recommending her services.
-Kay McMahon
I was incredibly impressed with Renée at our initial consultation. She was so warm and lovely to talk to, I felt in really good hands.
-Katie Bleach
She is very enthusiastic in what she does and her talent and love for her job shines through all the time.
-Sabina Virtosu
All my fears were swept away in an instant.
-Leslie Freedman
It was so nice to meet Renée – she is so talented and extremely professional. She put me at my ease and answered all my questions. My eyebrows look natural and I am so happy with the result. I have no hesitation in recommending Renée. Thank you.
- Reeta Massey
100% recommend the Dermatography clinic. Have been going since 2011. It's actually life changing and Renée always gives 110%.
-Michelle MaBell Guevara
I am so grateful to you for taking away my stress and reinstating my self-confidence.
-Gunita
Always so professional and caring, look forward to my next visit.
-Roz Portwain
Fantastic experience, relaxing Personal, unique.
-Denise Schofield
I did not know what difference it would make. You have given me confidence in my appearance again, something I've lost as I near the age of 50.
-Ilana
I only wish that I had come to see you sooner!
-Karen
I'm so please I made the decision to have my eyebrows done by Renée, fantastic work and worth every penny.
-Ann Moise
I doubt there is anyone I would trust more than Renée to do this.  Go for it, you will not look back.
-Clare H
Very caring, considerate, and thoughtful. Putting me at ease and understanding my needs. Altogether, a very pleasant experience.
-Chris
I have been very impressed with the whole service and Renée's lovely, quite professionalism.
-Maggie
Amazing work seriously the best I've ever seen.
-Sally Tayim
Renée is an absolute professional. She has done a wonderful job for me and I would not consider going anywhere else.
-Angela Simpkins
Renée is so friendly and made me feel so comfortable and relaxed. I fully trusted her judgment.
-Kaley Chapman
I was struck by how passionate Renée is about her work and by how much she really cares about her customers.
-Nicola Morgan
Wow. I'm so happy with what you've done for me. The results are fantastic.
-Sam
You probably gathered from my happy tears that this is more than just makeup. The world needs more Renée's.
-Nadine
Permanent Make-up Testimonial
Scalp Micropigmentation Testimonial
Permanent Make-up Testimonial
A unique, friendly, comfortable, relaxed experience
Closest tube: Liverpool Street (0.4mi.) Algate East (0.4mi.)
Closest rail: Shoreditch (0.4mi.) Liverpool Street (0.4mi.)
Street Parking – We are just outside the Congestion Zone
Address:
The Dermatography Clinic
5 Puma Court
Spitalfields
London
E1 6QG
Contact Information:
Contact Renée to arrange an appointment at our Spitalfields London private practice
By Appointment Only: Mon – Sat 10am – 7pm