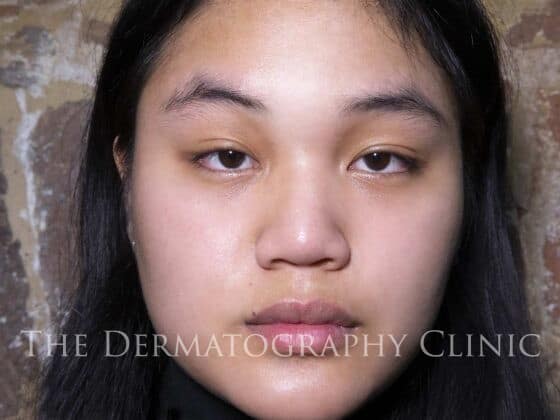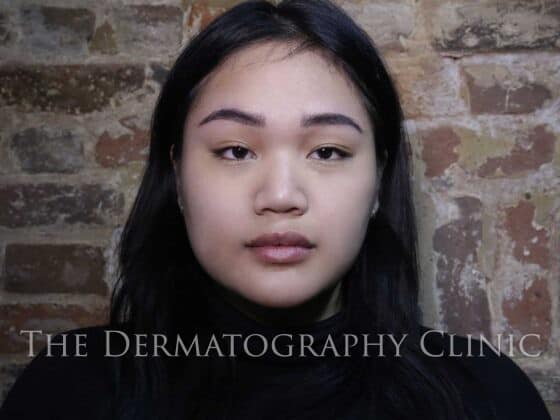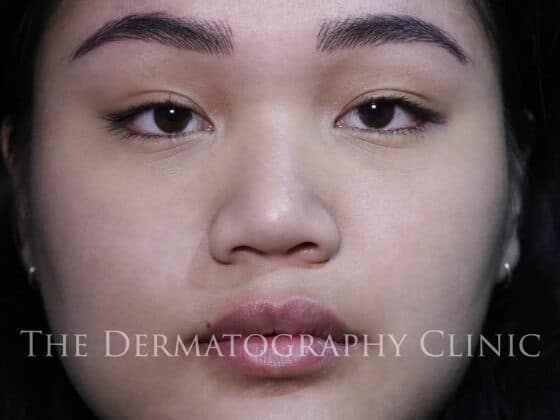 Permanent Eyebrows The Treatment
Fast Questions and Answers
What options does TDC offer for eyebrows?

Nano Stroke Brows
Powder Brows
Combination Eyebrows

What option is best for me?

The most realistic and natural effect is 'nano stroke brows' which produces ultra fine hair strokes to fill or create the perfect brows.

Powder brows also known as ombré brows are the very latest in cosmetic tattoo trends for eyebrows and produces a powder effect with soft edges for more of a filled brow effect, without looking tattooed.  Together with our translucent pigment range the soft powder effect is another great option if you prefer your eyebrows looking fuller.

Combination brows are a combination of hair strokes plus the powder effect for fuller yet still natural and realistic eyebrows.

Does The Dermatography Clinic offer Microblading?

Renée does not consider microblading an option for The Dermatography Clinic.  Microblading is a primitive method of cosmetic tattoo for the eyebrows. Pigment is applied into the skin by using a hand tool with a series of needles and dragging it through the skin to create tiny cuts which mimic fine strokes.  Microblading is more aggressive and eyebrows are very pink immediately after.

At The Dermatography Clinic pigment is implanted under your skin with a digital state-of-the-art hand piece instead of a manual handheld tool.  As with Microblading it produces ultra fine hair strokes to fill or create the perfect brows.  With the device results are longer lasting and trauma is kept to a minimum.  There is no risk of scaring, no bleeding and hair strokes can be crossed over which gives a more natural and realistic overall effect.

We use specially developed needles pioneered and exclusively produced to create ultra crisp super fine strokes and together with expert technique there is no difference in the immediate outcome when using the machine.

Results last 1-3 years and you can go out immediately after.

What is the healing period like?

In the initial days after treatment, care should be taken to keep the eyebrows clean and dry.  Other than this you can continue with your schedule as you normally would with no down-time.

Detailed aftercare instructions will be given specific to each treatment.

During the first few days after the procedure is performed the pigmented area will look a little darker than your desired shade. However, after the dryness flakes off, the colour will lighten by up to 30%.

The finished results will appear very natural and your features will look more defined. Your overall look will be brightened and refreshed. Your friends will never know what the difference is unless you choose to tell them. These treatments offer a major breakthrough in permanent cosmetics.

When applied correctly they can give the impression of a mini facelift making you appear 10 years younger without surgery.

Renée's creative expertise and up to date knowledge of pigment implantation will always result in a natural and realistic enhancement complementing your features.
Customer Before & After Images
True likeness pictures ~ A selection of Renée's recent work. Click on the images to enlarge.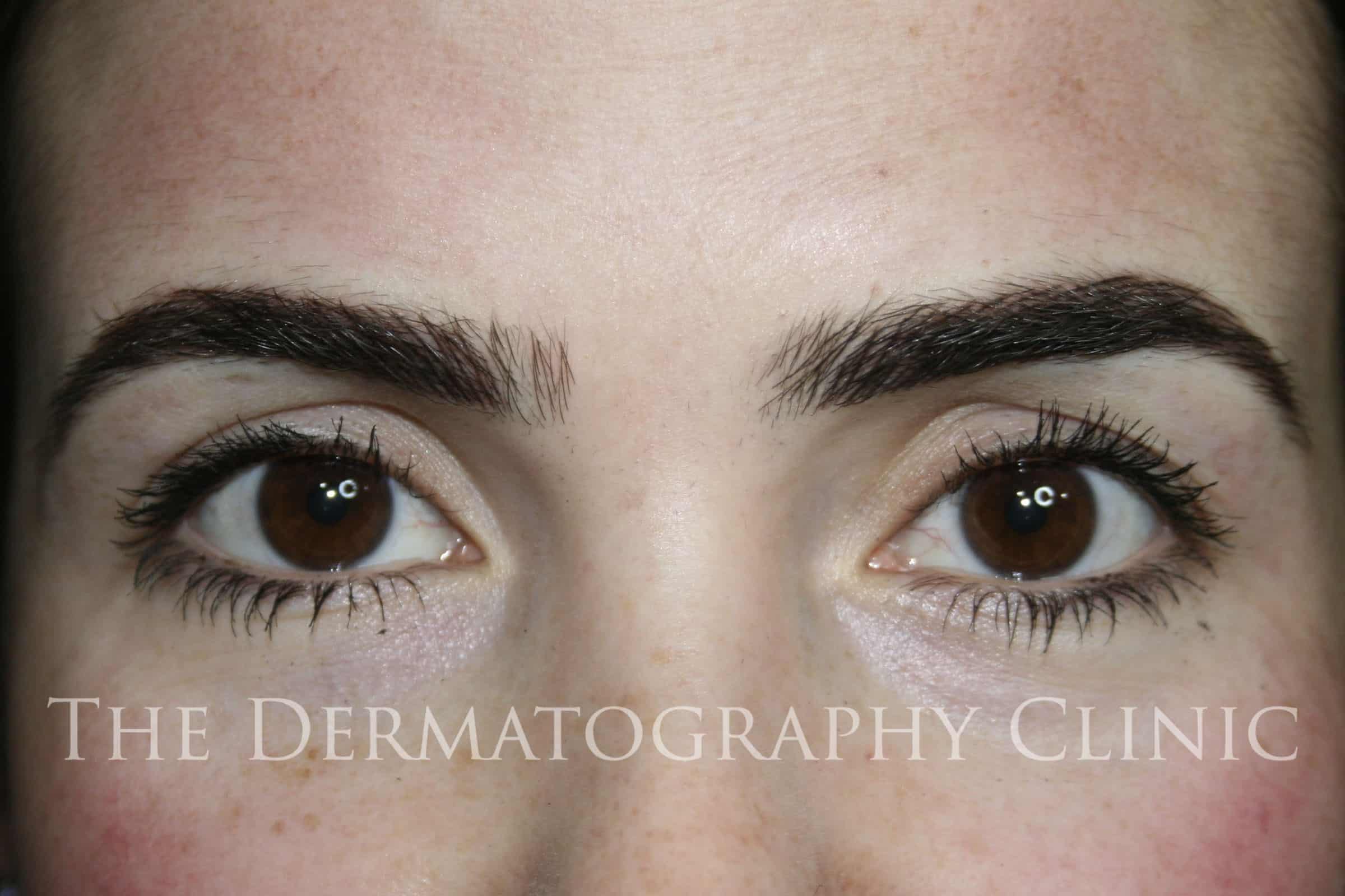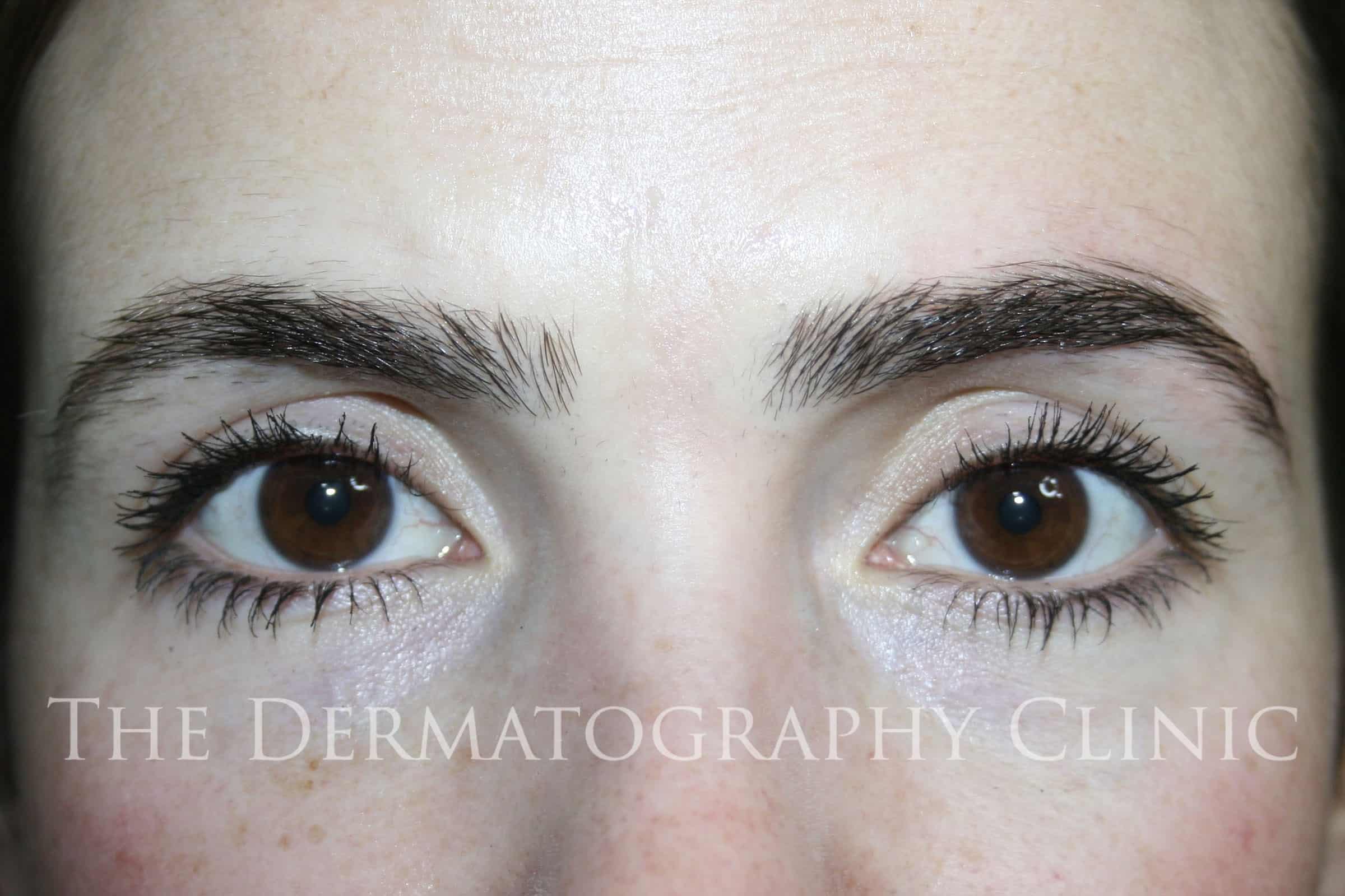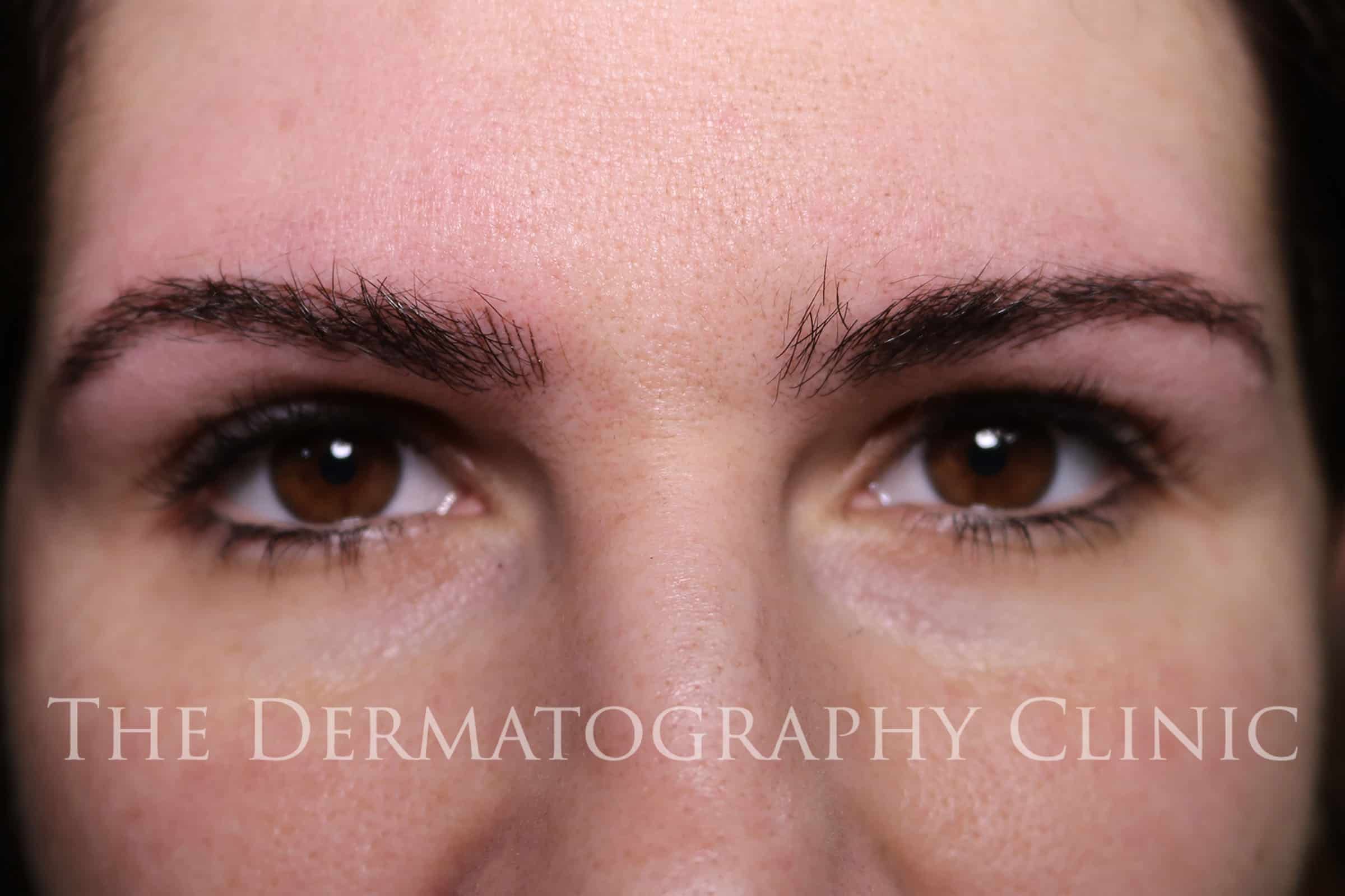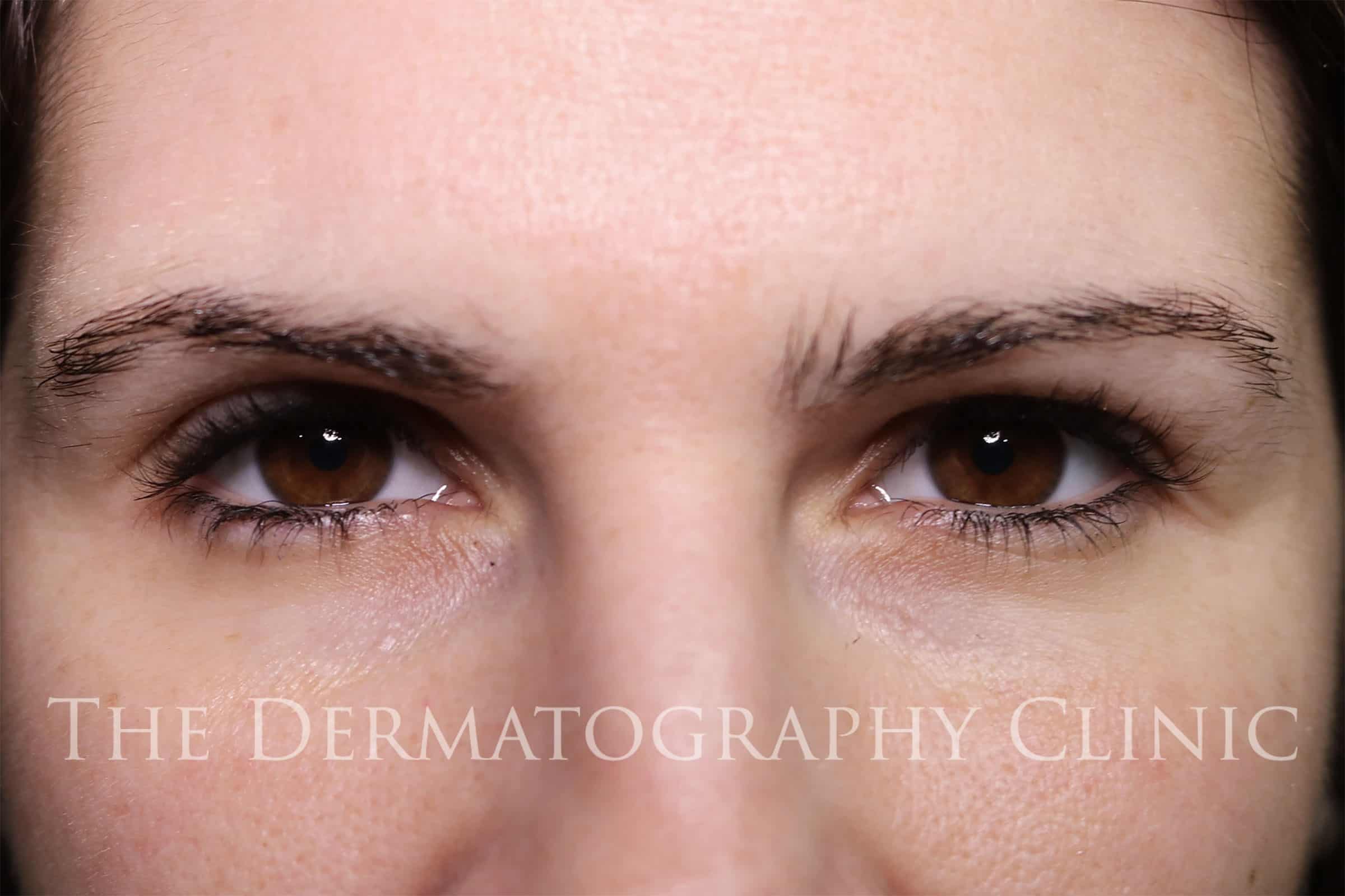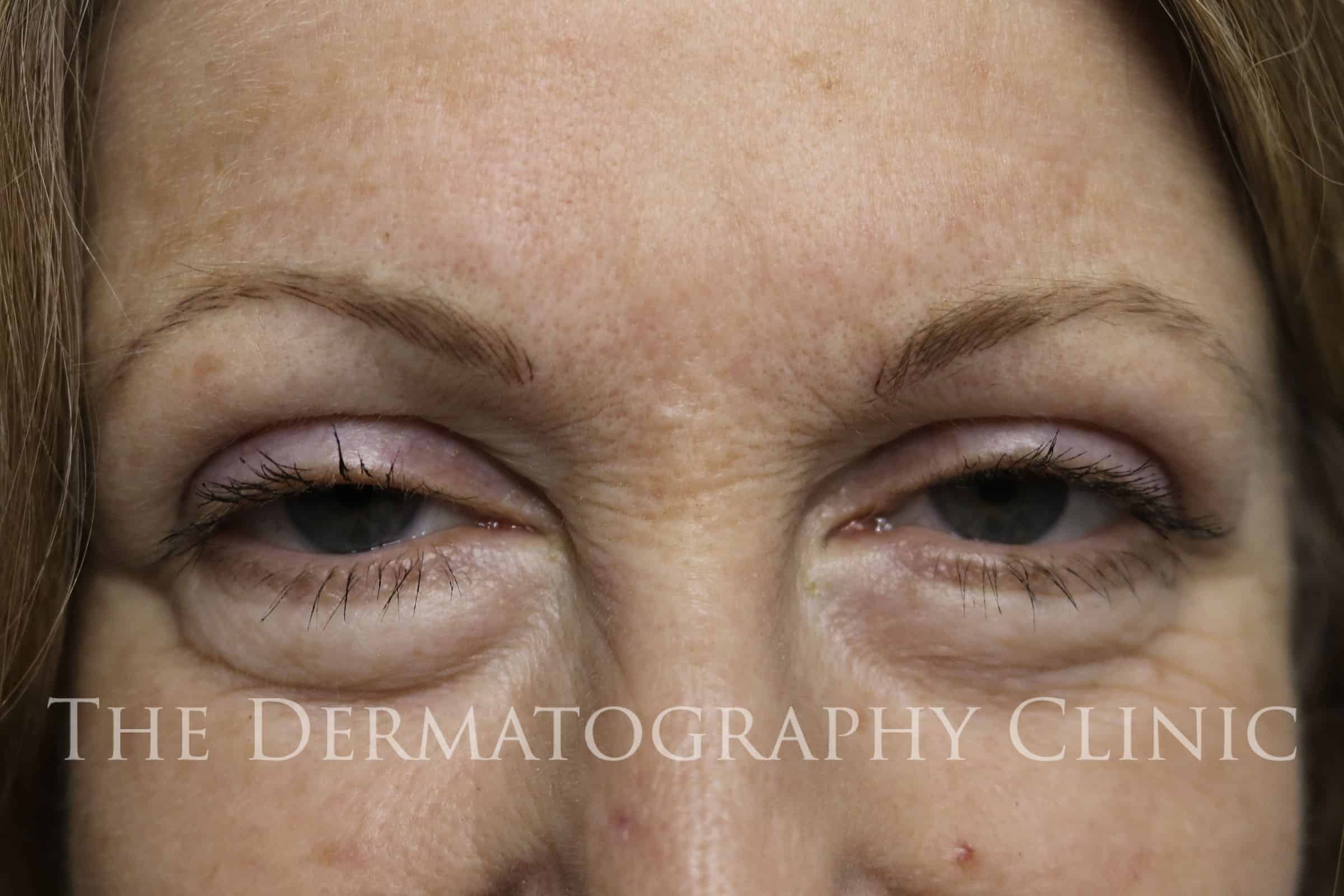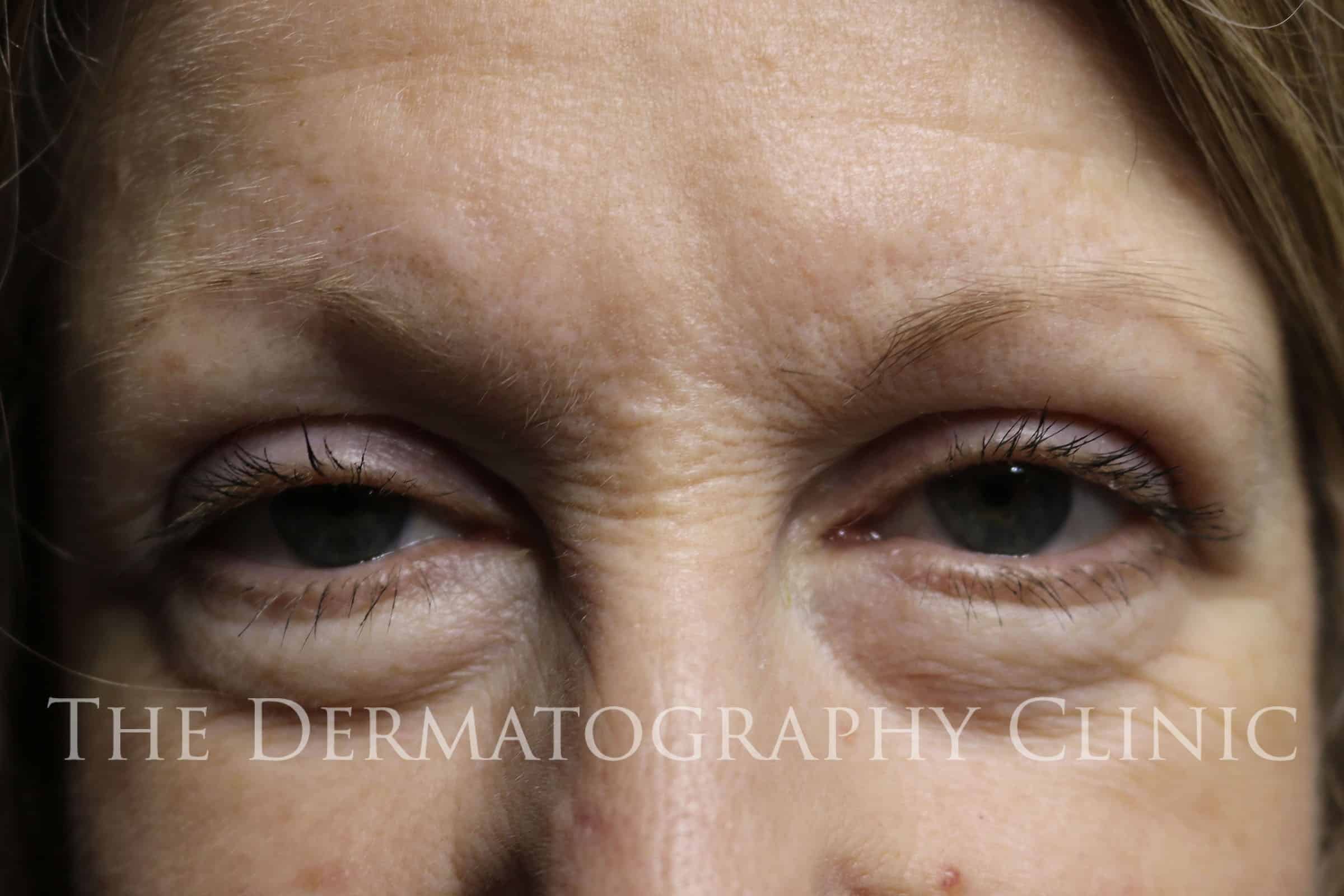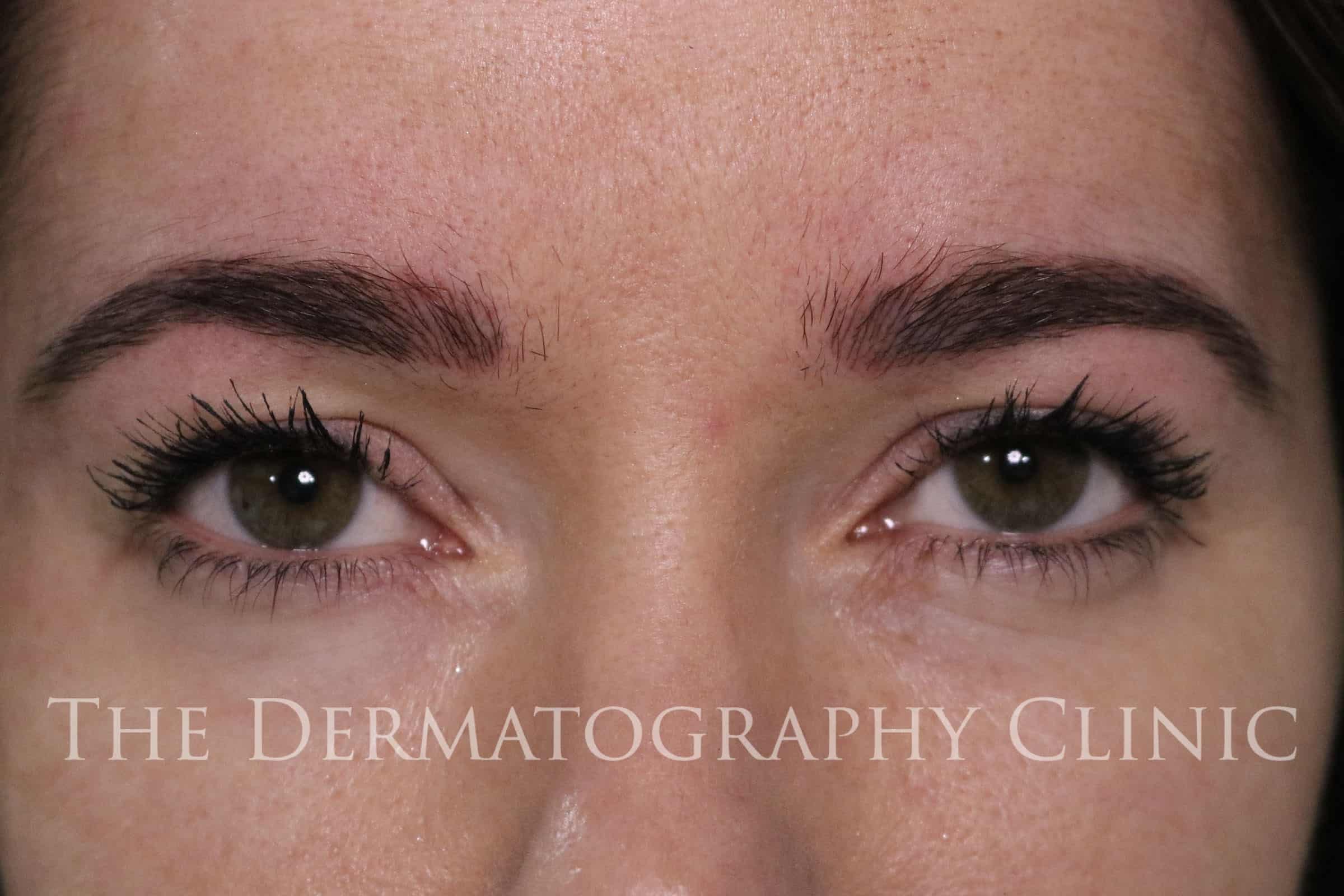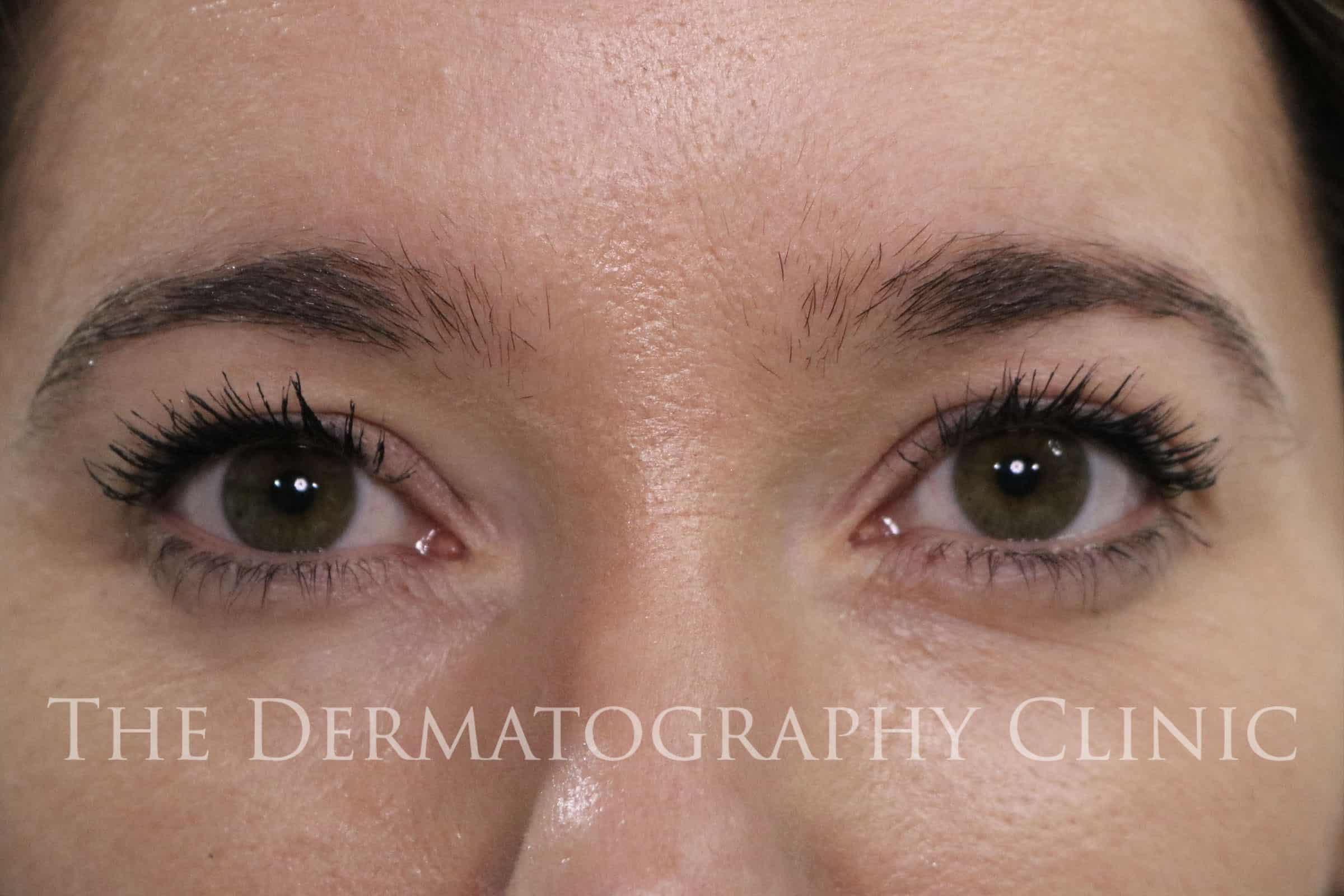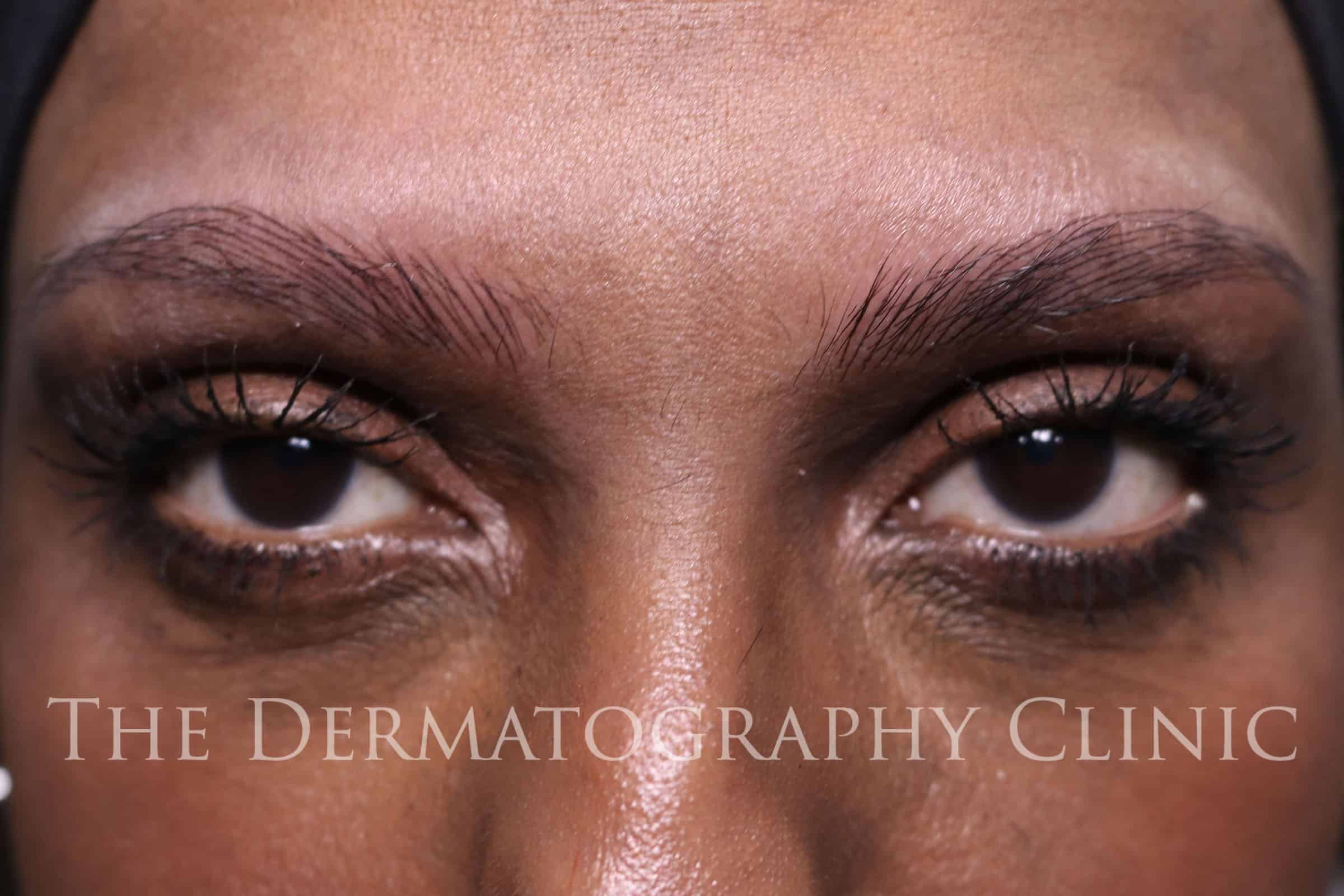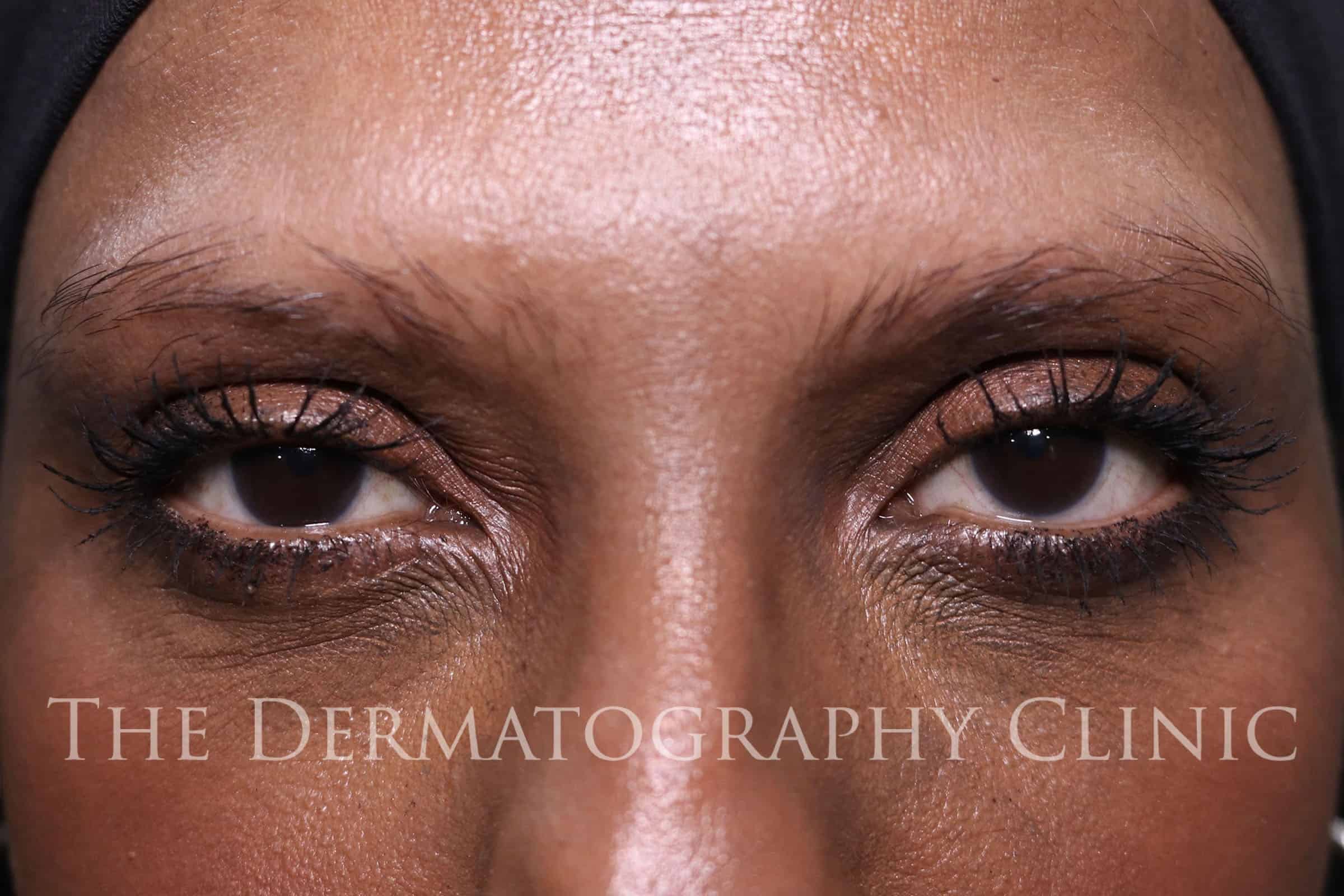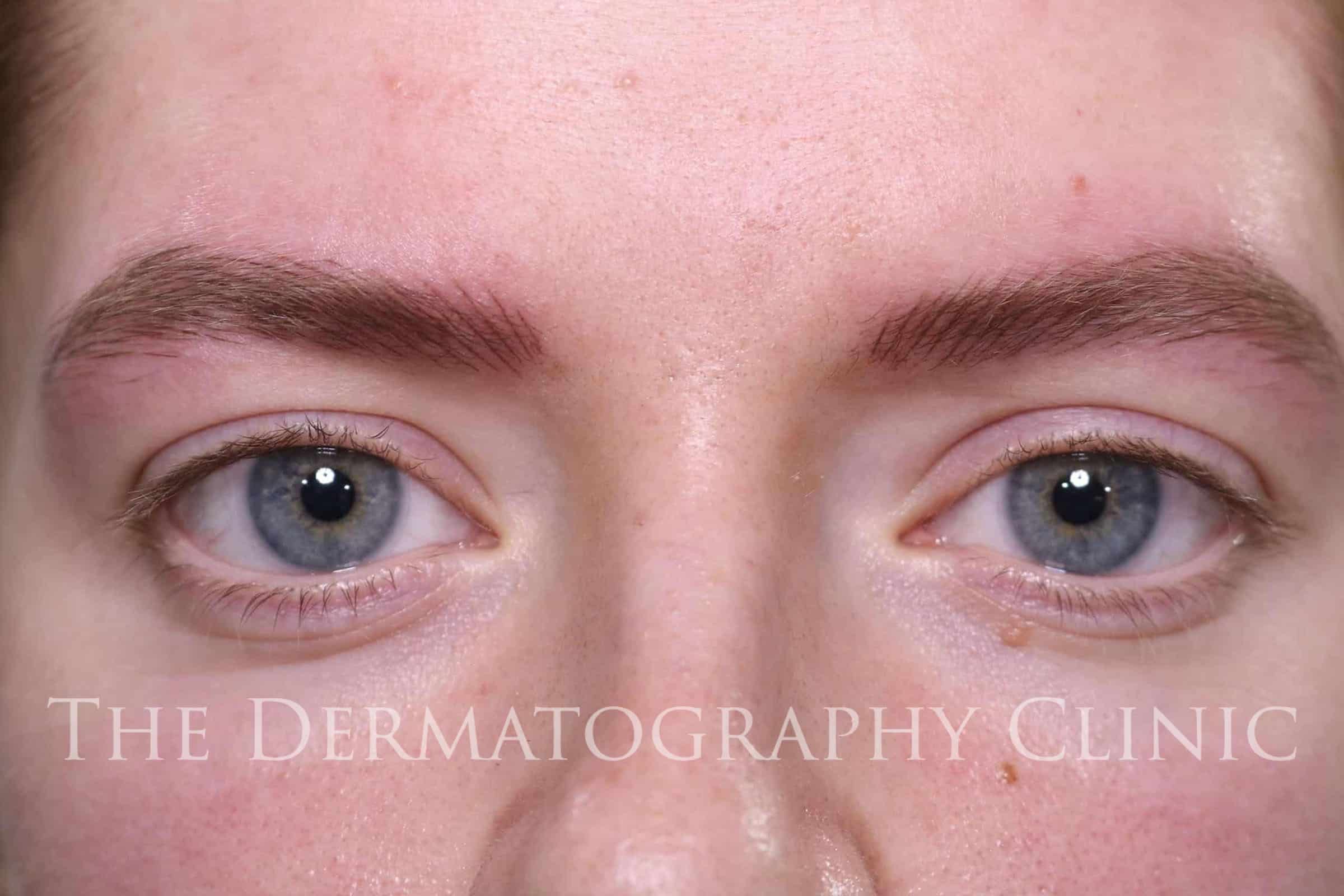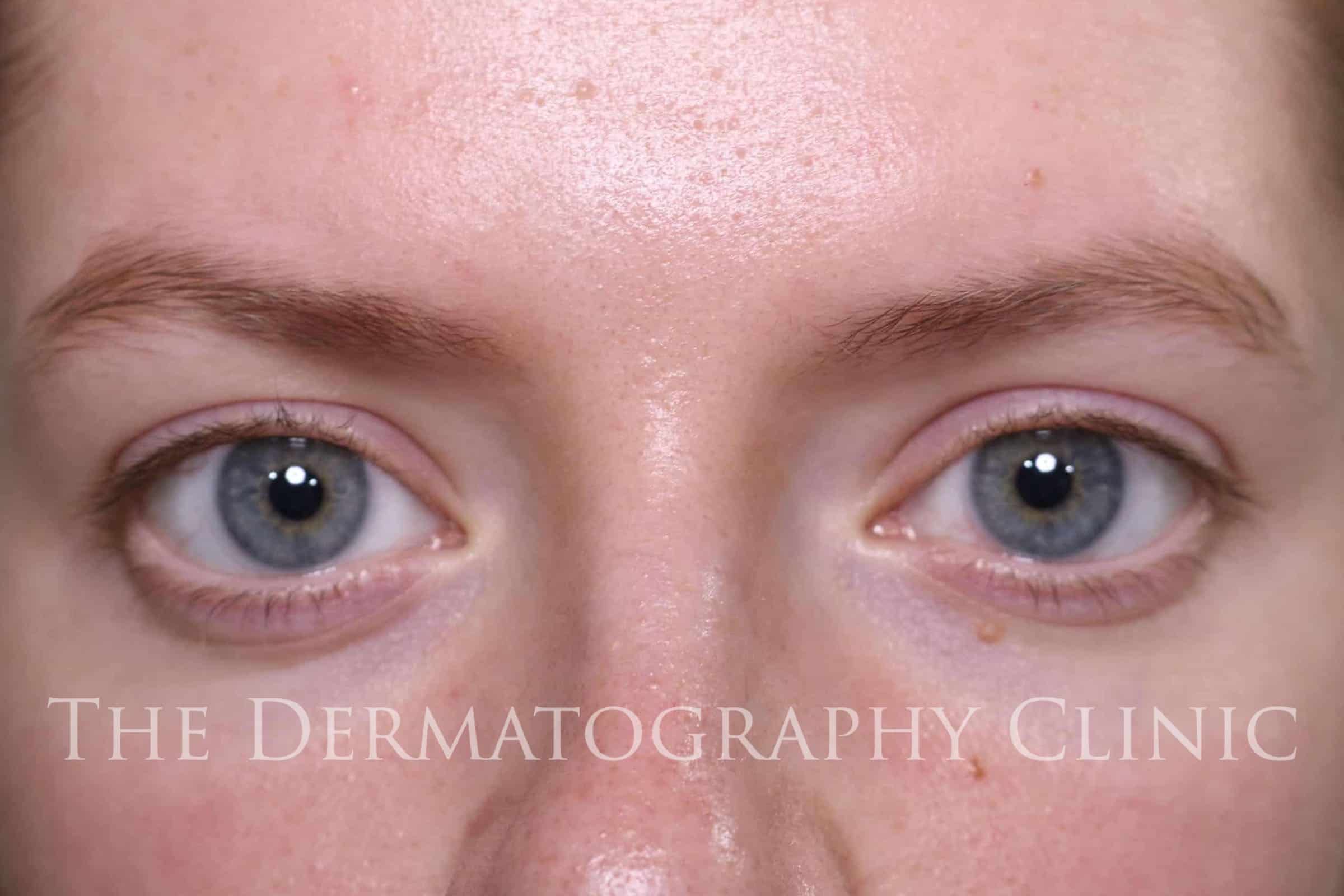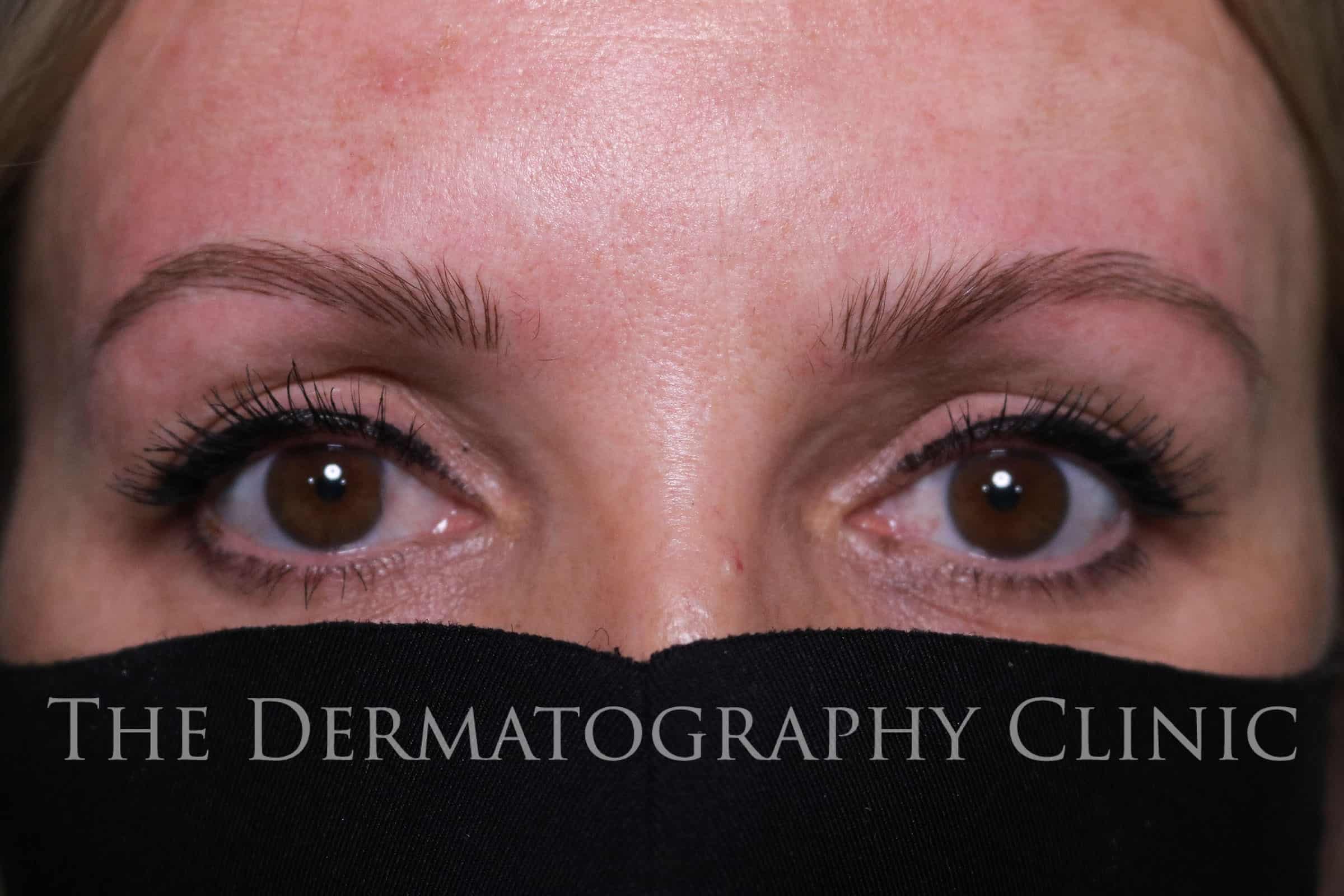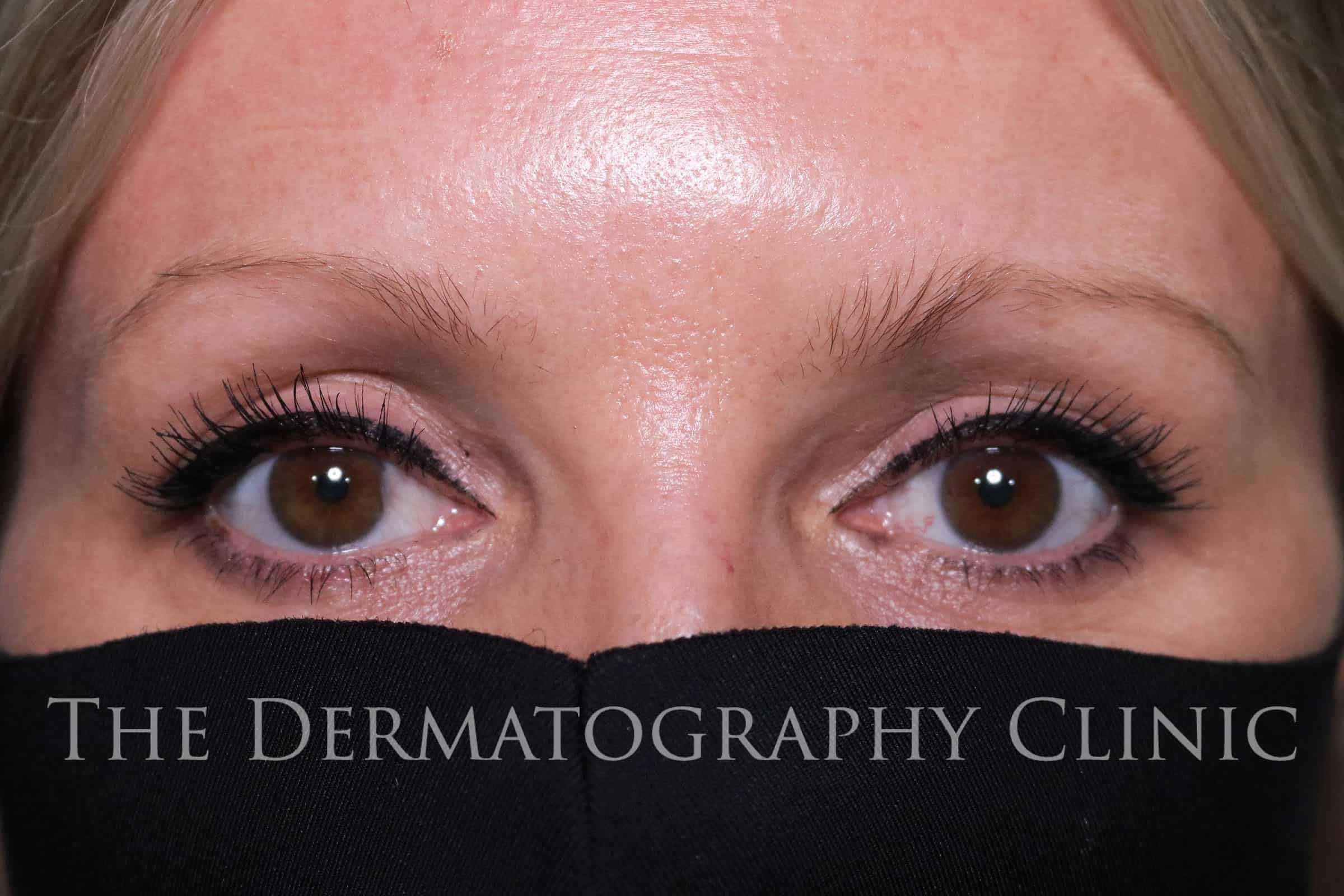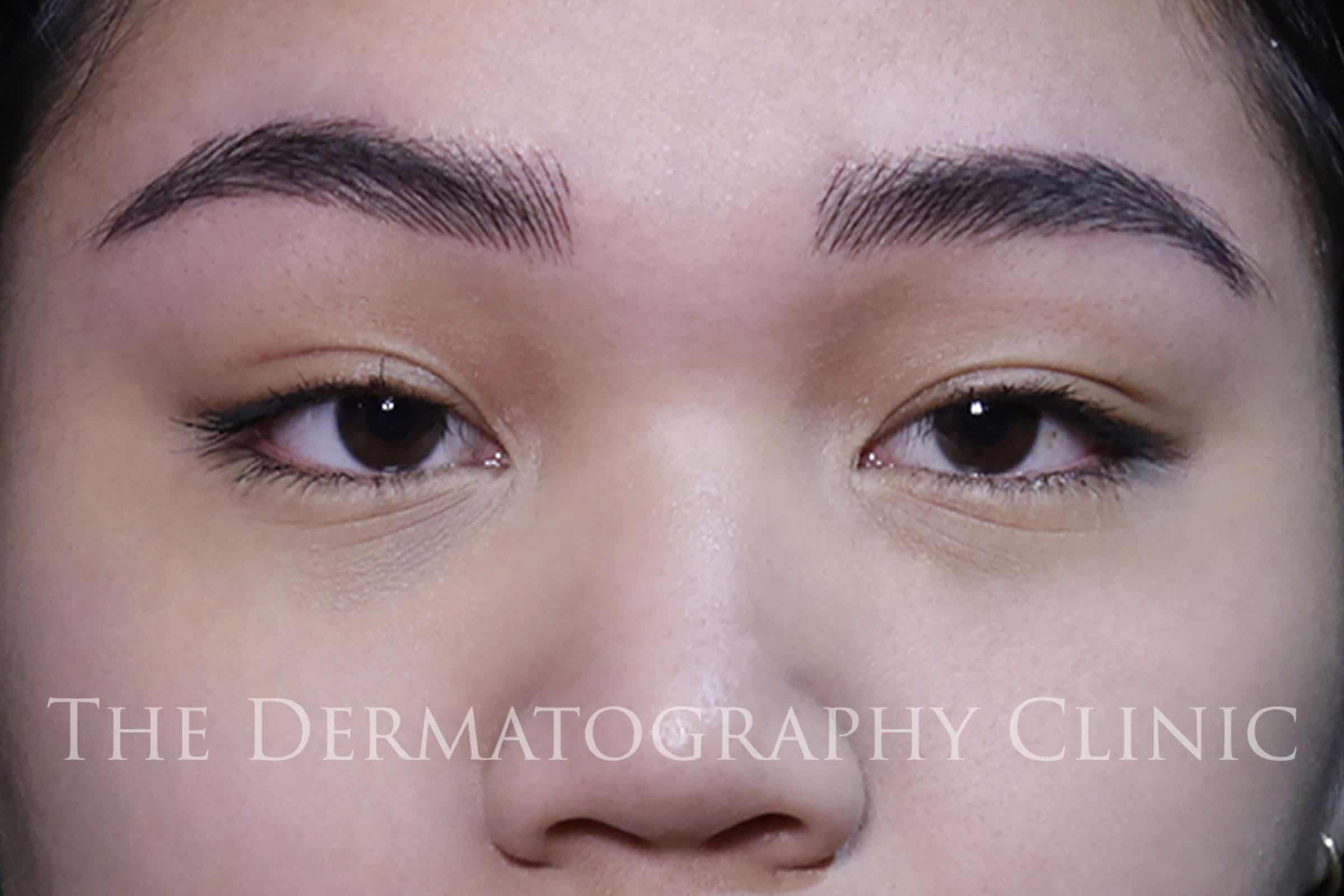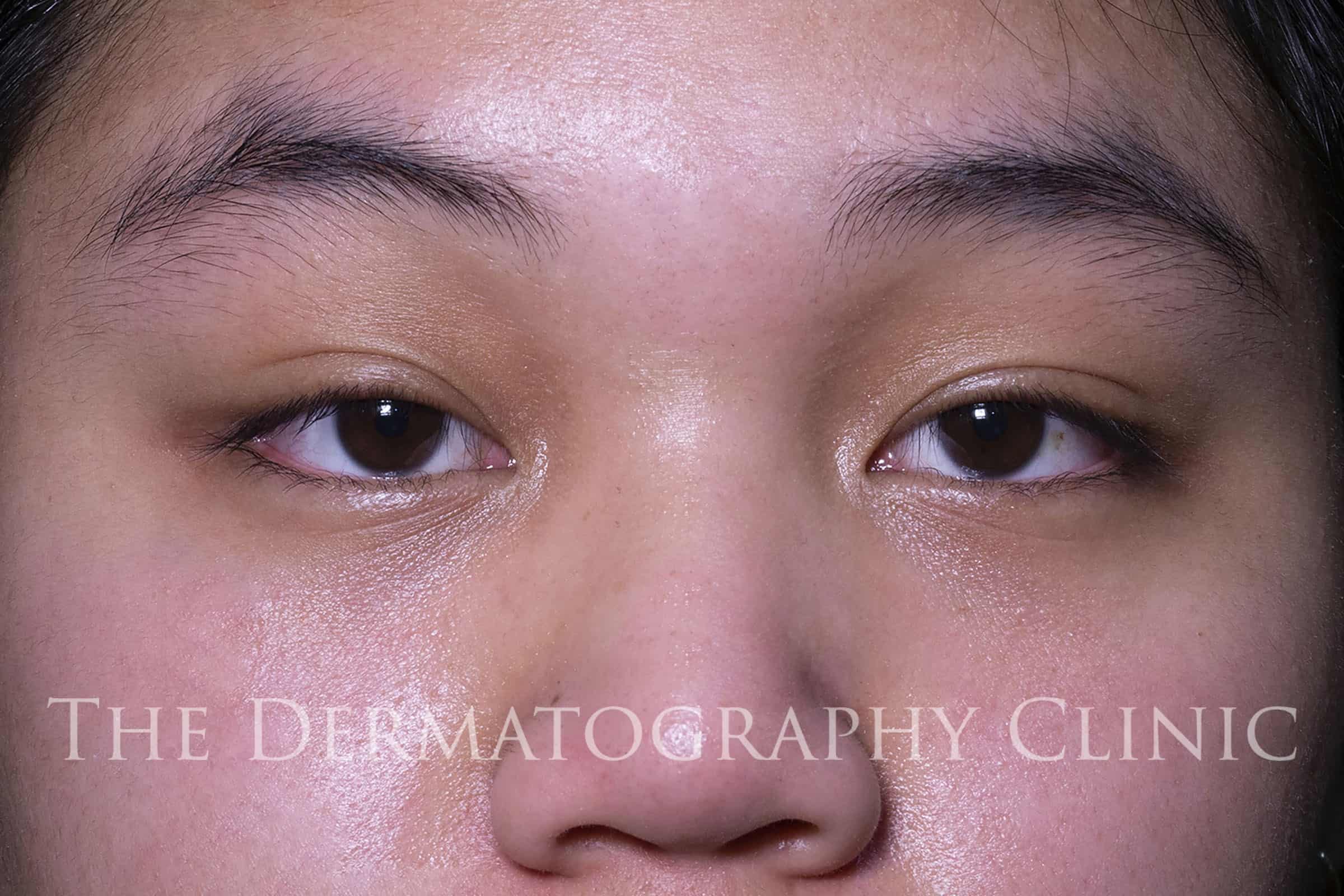 How does permanent eyebrow makeup work?
If you have fair or particularly sparse eyebrows and you need to add some definition to your brows, this can be achieved either with makeup, brow tinting or using cosmetic tattooing, otherwise referred to as permanent makeup or permanent eyebrows.
It's true that fuller eyebrows make you appear more youthful than skinny, over-plucked brows. Your eyebrows play a very important role and should work in harmony with your whole face. At The Dermatography Clinic we offer permanent makeup eyebrow enhancements to minimise flaws, redefine your brows and restore balance and symmetry.
Not to be confused with microblading which is performed with a hand tool, our hairstroke enhancement is a much more advanced process of creating fine strands of hair to mimic your own.  A specialist digital machine is used which is incredibly gentle and this technique is the most realistic and longest lasting option making it the perfect solution for perfecting eyebrows.
We only offer the best options for our clients, ones that we know our clients will love. We consider the best permanent eyebrow treatments to be the ones that are the lowest maintenance, longest lasting and achieve the most realistic results while being comfortable and safe, with absolute minimum trauma to the skin, ensuring a comfortable and pleasant experience.
Ombré is an alternative technique which can produce a soft powder-fill effect allowing for soft edges and can also be combined with strokes.
Makeup should be adaptable so your permanent makeup treatment should act as a base rather than a heavy makeup look which can become dated looking in the future. Your permanent makeup should be a more subtle version of your makeup which will enhance your best features on a daily basis and can be built up if you want more.
Testimonials
It took me two years to build up the courage to have this done. I am in my sixties, pale skinned with grey blond hair and brows almost disappeared with age. I have a natural style and was scared this treatment would look too false. It was two years I could have looked wonderful ! Renee was gentle and patient, and gave me all the time I needed to go forward. The first session was getting the shape right with the natural wonkiness of my face, and the micro needle felt like a tickle across my skin. Still apprehensive, the first week afterwards took a tearful phone call to Renee to trust the ink really would lighten as they healed…they did beautifully within two weeks. I had three sessions in total with the colour and shape finally looking natural and elegant, and more balanced in shape than my original brows. Even close up my girlfriends struggle to see they are not my own. It makes life so easy, without make-up I now have structure to my face and can also powder them in for a more dramatic effect. I feel more youthful and it has boosted my confidence as I grow older. I totally trust Renee as a skilled technician and artist, plus she is a lovely rare person who truly cares about her clients happiness. You can ask Renee to see my transformation photos in her book.
- Rose
I chose Renee based on the reviews I had read and I was not disappointed. I had a shock cancer diagnosis which involved immediate start of chemotherapy, and I was even more concerned at losing my eyebrows than my hair. Renee was kind and understanding, fitted me in even though she was fully booked. From start to finish she made me feel comfortable, took plenty of time to discuss my wishes, and was professional and friendly throughout. My eyebrows look amazing, an enhanced and improved version of what I had! I am really delighted and I feel confident and empowered starting chemo. Thank you!
- Cecilia Watts
I honestly can't recommend Renee highly enough. She explained the process with patience and expertise and really tailored the solution to achieve the most natural look for me, which is actually what I was after. I am absolutely delighted with the results and my confidence has shot up, it's a game changer
- Rebecca Allen
Renee is just simply amazing. Amazing! I have been going to her for years for my eyebrows. I have received so many compliments on how natural they look and what an impact they have on my confidence. I have just recently had needle free fillers from her and the response from friends has been ecstatic. "You look so fresh". "You're skin looks like it has been airbrushed". Renee is such a perfectionist and she has extraordinary attention to detail. I would have no hesitation to recommend her for any of her services.
-Lisa Reardon
Very thorough. I now have eyebrows I'm proud of and eyes that are natural looking. Thank you so much, Renée. I wish I had done it sooner.
-Jackie
I was nervous but Renée put me at ease both at the initial consultation and the actual procedure right through. She's not pushy and explains everything extremely well to ensure you feel comfortable. Once you've had something done by this artistic lady, you'll come back for more. Thanks Renée.
-Ruth
Wow, Renée is so talented and professional. My experience was great. Attention to detail, amazing. Now I have beautiful eyebrows. Perfect.
-Janet
I'm so happy to finally have eyebrows that won't rub or wash off. Even happier that I found Renée to do them as she really made sure they were perfect.
-Neyan
Renée, I just want to say what a lovely girl. She cares and is so passionate about her work. I love my new eyebrows. They are perfect. She takes her time to give you exactly what you want. She is a perfectionist. Thank you so much, Renée
-Anna
Dear, Renée. I'm so glad I did this to my brows. Looking back at how sparse my eyebrows looked before, I can attend my fitness classes and not worry about if I had rubbed my eyebrow pencil off while sweating. Renée has done such a good job and the atmosphere is totally relaxing with no pressure as to how my eyebrows should look. I have 100% input. Very happy with the result. Thanks, Renée. Will be back again for my eyes.
-Andrea
Thank you so much. I can't believe how fantastic the results are.
-Safron
100% recommend the Dermatography clinic. Have been going since 2011 and my eyebrows are fantastic. It's actually life changing and Renée always gives 110% to making my brows and eyes perfect!
-Michelle MaBell Guevara
Thank you Renée for my new eyebrows, which are perfect. I keep getting compliments about how well I look, which is wonderful, especially as hardly anyone has spotted exactly why I look better. I am coming back for the eyeliner soon.
-Pat Hewett-Marvell
I now have wonderful eyebrows that defines and enhances my face and features and I do not " stress" about spending time each morning trying to pencil in eyebrows.
-Daisy
I absolutely love my eyebrows!!!!!!! I first saw Renée's work on a friend of a friend when I was immediately struck by how natural yet effortlessly glamorous her brows looked.
-Katie Bleach
I had my eyebrows and eyeliner done – they are just perfect : )
-Lavinia Dale
Dear Renée. Thank you so much for giving me the eyebrows I've always dreamed of, I love them. You made me feel completely at ease and are totally professional. All my fears were swept away in an instant. You are a genius!
-Leslie Freedman
Dear Renée.  Thank you so much for my new brows, I love them and have had lots of comments, amazing the difference it has made and a wonderful job you have done, thank you, see you again.
-Joe
I absolutely love love love my eyebrows and I wonder why I didn't come to see you sooner. Eyeliner next I think… after my wedding.
-Vicky Twentyman
Dear Renée. Thank you once again for the beautiful work you did on my eyebrows. I am always more than pleased with what you do for me. Its always a pleasure seeing you. You are a lovely person with a lovely nature.
-Roz