SMP (Scalp Micropigmentation)
Scalp micropigmentation is a cutting-edge non surgical hair loss treatment to help you enhance your look easily and naturally – 'the natural solution for crown balding and a receding hairline'.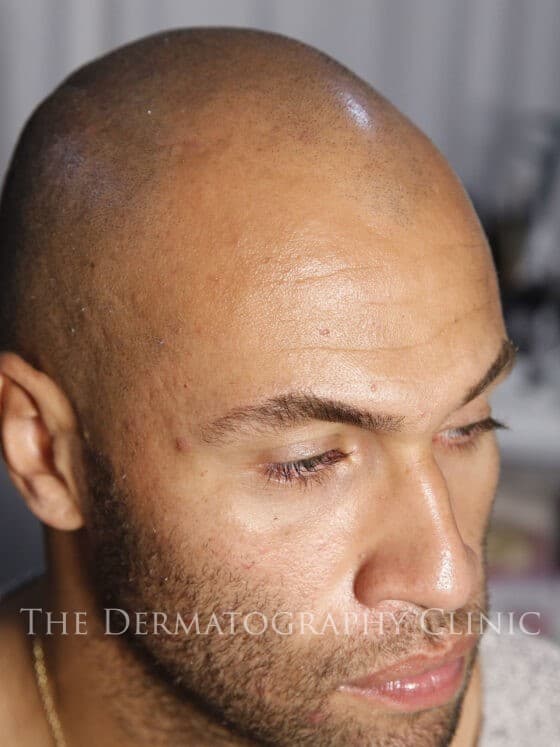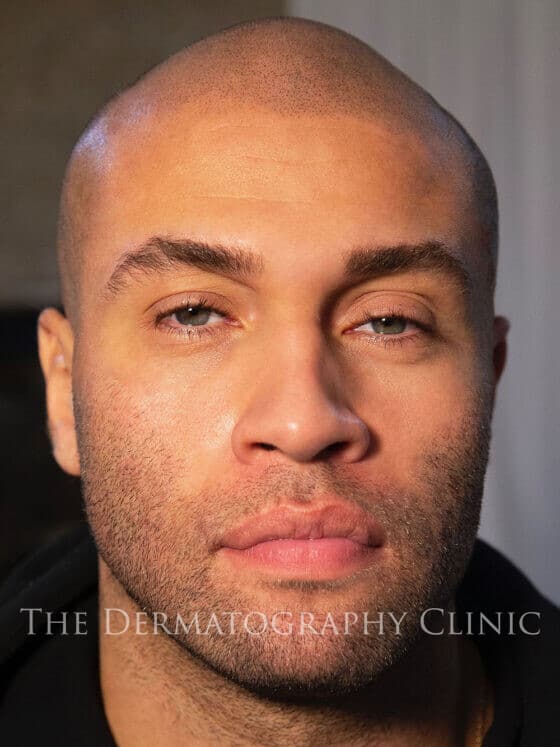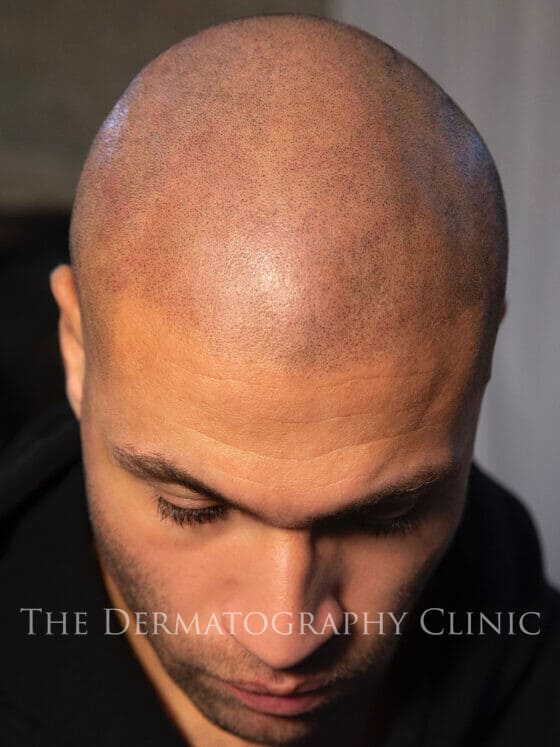 Fast Questions and Answers
A solution for baldness and receding hairlines, 'scalp micropigmentation' is essentially the process of having your scalp tattooed with tiny dots that resemble the appearance of stubble, giving you the appearance of a short, 'buzz-cut' hairstyle. It's touted as an 'immediate solution to hair loss' and there's no invasive surgery, no scarring and no down time.

How do you find a natural-looking hairline?

A natural hairline is the most crucial aspect of the treatment.  Renée is an experienced practitioner and her approach is to restore and improve.  A suitable hairline will be agreed with you before your treatment.  This will be based on your previous hairline and face shape. The hairline should be appropriate for your age so this will also be considered.

The length of your hair loss treatment will depend on the size of the area that needs to be treated and the desired result.  A tailored treatment plan will be made for you. You will need 2-3 sessions to reach the desired result and sessions usually last around 1-3 hours.  It is a process of building up layers in order to gain a natural and even finish and to blend with your existing hair.

Is the hair loss treatment painful?

It hurts less than having a regular tattoo, and certainly a lot less than a hair transplant. Scalp micropigmentation doesn't penetrate the skin as deeply as normal tattooing.  Most clients feel very little discomfort or none at all.

Will the effect be permanent?

Scalp micropigmentation is semi-permanent but should be considered permanent as it lasts a very long time.  We offer a temporary option.  This means it should last between 1 and 3 years.  We also offer a more permanent option which lasts up to 5 years.

Long term maintenance is required for both options.

Please visit the FAQ page for more information.
Customer Before & After Images
True likeness pictures ~ A selection of Renée's recent smp work. Click on the images to enlarge.
Scalp Micropigmentation For Men
Hair loss can affect you both emotionally and physically.  By discovering Micropigmentation we hope that we can inspire you to have the hair you deserve.
Hair loss doesn't only affect older men, it can affect younger men too and can even start as early as one's teens.  Every case is different but hair loss can be particularly hard for younger men to handle and often results in making hasty decisions out of desperation.
While SMP is a fantastic solution it can be a daunting experience as it involves changing your appearance.  We provide help and support throughout the whole journey which includes adapting to the transition post treatment.
After an SMP treatment it is important to keep the rest of the hair as low as possible in order that the SMP looks realistic.  It will look darker around the edges if the natural hair is left too long.  Most people find this easy to maintain as in most cases they are already keeping their very low prior to their SMP.  It is important to understand that hair should be kept low before commiting to an SMP treatment.
Testimonials
Reneé is a real life magician! Patient, thoughtful and above all highly skilled. I am extremely pleased with my SMP, which has produced a very realistic visual, which I myself cannot even tell is not real hair 😆. I highly recommend
- Kalum
It's made a huge difference in my everyday life and it shows that you care as much for your clients.
-Gianpaolo
As a man I was very nervous about what to expect, but you made me feel relaxed straight away, your a credit to your industry and I'd be happy to recommend you.
-Anthony
Absolutely fantastic treatment! Renée is not only good at her job but also a lovely human being, I had scalp micropigmentation treatment in areas where I was balding and she has helped to cover that up and make me feel more comfortable. If your thinking of taking the plunge you are in the best of hands!
-Isaac Oppong
Renée was very professional and understood my concerns and we discussed every stage of the procedure.
-ML
I can't express how much Renée has helped my confidence. I suffered with alopecia for 5 years without hope of having any hair or treatment to resemble hair. Having gone to Renée and having micropigmentation done was the best thing I've done for the alopecia. She's the best at what she does!
-Ali Haling
A wonderful job, a wonderful atmosphere, and a wonderful woman Renée is. Will be recommended to everyone.
-David
Thank you Renée for doing a great job. It doesn't look false at all. I feel more confident than I did before
-Ben
Lovely person. Excellent result and now I have hair. Thank you so much can't wait to come back and get more hair soon.
-Dean
Her eye for detail is second to none. She treated me like a royal guests. Excellent service. Cannot wait to come back.
-Mark
Dear, Renée. Fantastic hair. Exceeded expectations.
-Chris